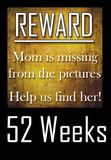 It's time to stop hiding behind that camera of yours. Your family is missing you in the picture. So it's time to post a picture of YOU (yes, you) every Thursday with your child, your spouse, your friend, your dog, or even by yourself. Just get in the picture, you'll be glad you did! And just jump in now with 1 of 52, you can do it!


This is one of the many shots taken on Sunday morning trying to get everyone cooperating!
_____________________________

Thursday Five


It's time for Thursday Five..where we post..


5 things that have made us..




Joyful






Excited






Grateful




Appreciative




Elated




or just plain


Happy


this week......
1. Watching Kendall enjoy riding her bike. I am so glad that I don't have to force my kids to want to be outside playing.
2. Knowing that in a week or so I will have my hubby home with me!
3. Flowers from my Benny to make me feel better since he isn't here to do so himself!
4. Cleaning out the kids closets
5. My first tea. Our MOPS group had a semi-formal tea for us. It was pretty cool!