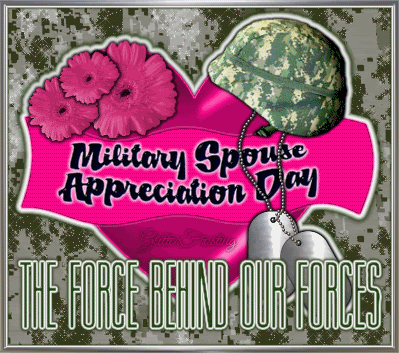 This is just one day where we are publicly recognized for supporting our heroes. The heroes we wait for. The heroes that protect our way of life. The heroes that we have given ourselves to.
Bonnie at www.thesometimessinglemom.blogspot.com/ is hosting "Your military love story." today in honor of Military Spouse Day. Hop on over to see what others are saying.
Ben and I met in May 2003. We were in Pensacola, Florida, at the time. A friend of mine convinced me to go with a "group" of people to a free concert in the park. I was at the end of a very bad relationship and was struggling to figure out what I wanted to do. Ben was very friendly, polite, and kind of sickeningly nice. I ran into him quite a few times when I was out with our mutual friend Heather. My previous relationship had ended, life was good. I had a plan! I wanted to be nearer to family & pursue some higher education.
Then one fateful night, I was out & there was young man who would not leave me alone. (Like following me from bar to bar kind of scary.) I saw Ben. I was comfortable enough with what I knew of him to run, jump up in his arms, and plead with him to pretend to be my boyfriend so that guy would leave me alone. Ben (being the very sound and rational person that he is) said just tell him about your real boyfriend. I told him "I don't have a boyfriend!" Ben stayed for awhile until the other guy got the hint and left. We talked for awhile when he said that he needed to get back to his friends. I thanked him & sent him on his way. Later that night, Ben found me again and invited me to go boating with him the next day. Why not?!
When we started hanging out, I was not really looking for anything serious. (To be perfectly honest.) I had several phone interviews for a position at a prestigious hospital in NC. I had pretty much made up my mind that I was going no matter what. BUT, I still couldn't stop hanging out with Ben. He was so mature, romantic, funny, supportive, honest, caring, sensitive, HOT (oh yeah I went there! still think he is!), goal oriented or locked-on I believe is the marine corps term, humble, independent, stable, cuddly, good relationship with his mama, OH OK he was PERFECT.
The position that I was once so excited for started to dim & I began to feel like I was making the biggest mistake of my life. I talked to him & ended up staying with him in Florida.
Ben had begun talking about eloping pretty early in our relationship & I thought that he was just UMMM....running his mouth?! I mean c'mon he hadn't even proposed! I am a traditional kind of girl & these things need to occur! Well he didn't disappoint, Christmas Eve 2003 Ben proposed at my old college campus. (He is kind of big on grand gestures if I haven't mentioned that!?!) We didn't want to live together until we got married so we eloped New Year's Eve 2003. (Maybe the shortest engagement on the books?!)
I can honestly say that I was COMPLETELY unprepared for what I was getting into as far as being a Marine Corps wife. I have learned to embrace the changes even if they drive me crazy sometimes. (Oh ok ALL the time.) Marriage is not PERFECT but I rather prefer the non-perfect because it has given us a chance to grow both individually & together. Do I still think he is all of those things that I mentioned before? ABSOULTELY!
We have been married for over 6 years now & it is not always PERFECT, he does drive me crazy (as I am sure I do the same.), we have our share of fights. But he is the only one that I want to have this experience with. The one that I want to "do life with" to quote our pastor.
I love you Benny! I am proud to be your wife.