Wordless Wednesday (Daddy's home!)
________________________________________________
Wednesday's Walk
Before our rehearsal and dinner, May 28, 2004.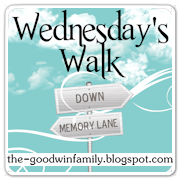 ________________________________________________
Wordful Wednesday
I thought that I would share a day at the "office" for my hubby. The front 2 aircraft are the ones that he flies. This was for a MEU homecoming awhile back. (He wasn't actually flying in this shot.) Every time I see him fly, I am kind of amazed 1. that the huey actually stays in the air and 2. that it is actually my hubby at the controls!
______________________________________

Thanks to Staci at
http://ramblingmilitarywife.blogspot.com/
for this award! I just started following Staci's blog recently but love to read her posts!
Ok let's see 7 things about myself. (This gets harder and harder to find things to put on here so bear with me!)
I am still battling against an injury that I got when I was pregnant with my son. I fell down the stairs & nothing has been right since then!

My first relay triathlon is coming up in August. I am beyond nervous that I am going to do something stupid like pass out on the trail!

I named my dog "Jordan" because I wanted to name my first born girl that but knew that I was FAR from having a husband & child at the time.

I try to call my parents (used to just be my mom but now my dad is retired so I can pester them both.) every day. It's hard being away from them & I don't think I really grasped that until I became pregnant with my first.

I used to love to go hunting and fishing with most of my male relatives. I am thrilled that my daughter wants to go fishing with my hubby & dad when we go to PA this summer.

My grandparents have been married for over 60 years & I don't think I have every heard them fight. (Little bickerings but not a fight.) I hope that Ben and I make it to 60 years!

I have two degrees (Nursing and Psychology) but I am really still looking to go back to complete a certificate program in Christian Women's counseling. I am still praying on it and making sure it is the right thing to do for our family (and of course that the Marine Corps will pay for it!)
Well there you go! If you regularly read here and want this award it is yours for the taking! Hope you are having a blessed Wednesday!