I saw this on quite a few of my bloggy friends sites so I decided to see how I ranked too! These are all the states I have visite so far over my lifetime. Man I guess I need to work on those poor Northern states huh?
So I finally stopped moving for just a little bit this morning to look at a few blogs and this is one of the first that I saw....I was so touched that I wanted to share it with y'all too!
10 Things I want my children to know
When they are moms and in the season I'm in right now, there are some things that I want them to know...
1. I don't always know what to say
2. I don't always have all the answers
3. I can't fix everything
4. I pray daily and ask God for wisdom, for help in knowing what to say, how to answer you or help you fix life's hurts
5. Sometimes all I have to offer is a prayer and hug
6. I want to teach you to love God with all your heart, mind and soul
7. I want to teach you to run to Him for guidance and strength, that your relationship with Him is more valuable than anything this world can offer you
8.
I want you to know you are loved, you are beautiful on the inside and that nothing you can do can ever change my love for you
9.
Motherhood is the hardest job on earth and I so often feel ill-equipped for the position of mothering children
10.
I thank God everyday that He chose me to be your mom and allows me the privilege of walking this hard road with you. Even when it is a rough mommy week, I am still so unbelievably thankful.
so thankful...
and it's worth every minute, every tear, every challenge and every prayer.
Marriage Monday
Sometimes when two marry, out of enthusiasm we misuse God's idea of oneness. Instead of "and the two shall become one flesh," we fall into the trap of thinking "and the two shall become one another's universe."
We know friends "sharpen" each other as iron sharpens iron, but also "the pleasantness of a friend
springs from their heartfelt advice" (Prov. 27:9-10), another good reason for married people to have godly friendships. Good friends are those who can provide faithful and loving rebuke when we need the "wounds of a friend" (Prov. 27:5-6). I know I'm a better wife because of the godly girlfriends, single and married, God has placed in my life.
For more check out Julie at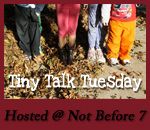 Picture this....I am standing at the bathroom mirror plucking my eyebrows. (Ok you might not want to picture it but that is what I was doing.)
My daughter Kendall came up and asked me what I was doing.
ME: I am plucking my eyebrows
K: WHY?
ME: Well sometimes you have stray hairs that you need to get rid of
K: Oh, ok. What are those things called?
ME: Tweezers.
K: Well don't you know that those girls on Survivor used scissors....don't you think that you should use those?
(Now obviously if you don't watch Survivor this probably doesn't make any sense but last week there were 2 girls that used scissors to cut each other's armpit and leg hair.....heaven help me if I find her with a pair of scissors trying to do the same!!)