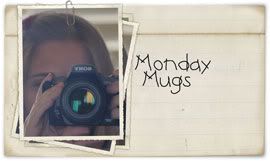 Ok,ok I know that this is a day late. Kendall was having some major "I miss my daddy blues" yesterday so I took my blog time to pamper her a little bit.
Yesterday Heather at www.oswaldcuties.blogspot.com/ did All about Mom for Monday Mugs. I went with an easy post since I wanted to put up pictures from my mother's day!
Here we are at church on Sunday. I went in to serve in the nursery & boy am I glad that I did! They were so busy as usual!
Here we are after service on Saturday night
Kendall made this on Sunday at church. It has a sweet poem on the back.
The kids have picked up on my crazy picture fetish and are enabling me!
Some sweet cards
I also had some fun shirts from my parents AHEM I mean my kiddos. Some money from
my super in laws for a speical treat AND a Victoria Secret gift card from my children. (I am pretty certain their father might have influenced where they went and got their gift card from! Just kidding babe! Love you!)
Hope you all had a wonderful mother's day! I know that I sure did! The only thing that would have made it better would have been Ben coming home.