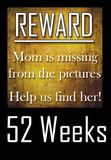 For more of the mom's behind the camera, check out Carin at http://wyomingbarnetts.blogspot.com
This past weekend, I went to Yuma to visit my husband and check it out as a possible duty station. We had a lot of fun so I thought that I would share some of those memories!
Hiking in the foothills. This cross looked so much bigger from the bottom!