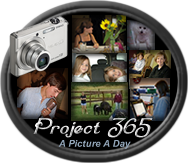 Ok,ok so this is a week late....I was visiting my hubby so I hope you forgive a girl for being tardy!

Day #36 (Sunday)
I spent the morning joyfully serving at the nursery desk at church. I love helping & of course love children so it is a great passion of mine. If the day had ended here it would have been perfect! Instead, I had to take the Burb into Sears for a simple oil change and battery replacement. It ended up being a nightmare 2.5 hours (instead of the 45 minutes promised) with a little boy that was 2 hours past naptime & a little girl who doesn't understand that we don't need to buy every beautiful thing in the store.
Day #37 (Monday)
Kendall and I had a "mommy/daughter" date at the park after school before we picked up her little brother. I think that these are especially important with daddy being gone right now.
MOPS today. We had a guest speaker on friendship. Let me just say that I am so thankful for my friends!
Before going to MOPS, I stopped at the little river walk beside New River to shoot a few shots of the kiddos.
New River
Kendall made this drawing in MOPS on Tuesday. I relented and hung the life size tracing of her on one of our walls for a little bit. She giggles every time she walks past it.
Our first day of our new ladies bible study. Janet and Nicole put these cute plants in each of our rooms with a very nice card. It is so not necessary but such a blessing to have something fun to greet you!
Before I left for the airport....I wanted to have a fresh picture for daddy when I hit the ground in Yuma.
Although we got to see each other A LOT more than I thought we would, Ben still had to work while I visited Yuma.
Here he is before going in to work.....
I promised not to post this because he was taking a silly super hero photo for the kids but it was too good not to share!