And...here we go!
1. Where are my
passion flower seeds? (I know that I put them in a safe place now I just need to find them!)

2. If wishes were horses
then watch out for the stampede at my house!
3. I'd like to see
Sesame Street Live when it comes to Cherry Point, NC next month
.
4. When I was a teen, I thought
that adults were so old & wrong. (Now I wish that I would have listened a little better!)
5. One of my mother's favorite sayings was
??????
6. I'd have a hard time doing without my
blackberry (now that I have it.)
7. And as for the weekend, tonight I'm looking forward to
Baylen's birthday party & friday night fellowship
, tomorrow my plans include
the Beth Moore simulcast! (I can't wait ladies!!!)
and Sunday, I want to
have a play date with Roni & her kids
!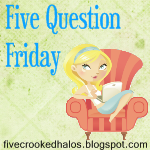 1. What was the first car you owned?
My hand-me down Subaru from my parents!
2. What song are you embarrassed to know the lyrics to?
"Barbie Girl"
3. Have you ever had stitches?
Both times after giving birth
4. What was your first job?
I worked at Trim Tree Nursery. It was manual labor and I have no idea what I was thinking when I took that job!
5. Who is your favorite Sesame Street character?
Oscar the grouch :-)