And...here we go!
1. I'd like
my flights to be on time and smooth today
.
2. One of my most favorite romantic memories is
a toss up between when Ben first said I love you and when he proposed
.
3. Last night, I had
ham, corn casserole, beans, mashed potatoes and cookies
for dinner.
4. Sorry for the
scheduled posts but I am going to be enjoying my hubby for a few days!
5. Can we
drop it
now?
6. One of my worst temptations is
eating too much
;
chocolate is so
hard to resist!
7. And as for the weekend, tonight I'm looking forward to
wrapping my arms around my husband for the first time in about a month
, tomorrow my plans include
not sure yet!
and Sunday, I want to
explore Yuma
!
______________________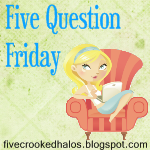 1. What words do you use on your blog/online that you don't use in real life?
LOL, JK,IDK, BTW
2. Do you still write checks?
when I can't use my debit card
3. Who was your favorite President and why?
Not really sure....I don't pay much attention to poltics. I can tell you that it is not the current one by any means!
4. Are you a yeller?
unfortunately yes....what woman who has a husband and children isn't?!
5. Have you ever dumpster dived?
Yes. Ben introduced me to this concept. We have so much construction around us that throw away ALOT of good wood. Ben has used so much of it for many projects around the house!