Joining in at
www.laurenalexis1.blogspot.com/
I believe that God shows us

miracles

just about everyday. My personal

miracles

are many but what stands out in my heart and head.....
The

miracle

of a God-loving, kind-hearted husband that provides for our needs. (I had so many plans for what he should be that I am grateful every day that God opened my eyes to what he really wanted me to have in a husband BECAUSE it is so far above what I had dreamed it to be!)
The

miracles

of my children. Each a wonder and blessing. So eager to love and be loved.....
The

miracle

of friendships. I have been so very blessed with so many women & a few men that have truly touched my heart in ways that I will NEVER be able to repay.
The

miracle

of a gift that I didn't have to pay for and certainly don't deserve. Salvation!
__________________________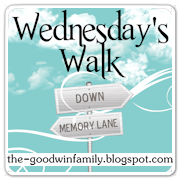 As we are approaching Relay for life this weekend, I want to remember Ben's Grandpa Schwalbe. I wish that I would have had more time to get to know him. He seemed to be a fun loving man & is missed by many!
Wordless Wednesday (First touch of my children)
A bond that I hope lasts for their lifetime.
Cute idea that I saw on Alison's page since I was struggling with something to come up with something for Wordless Wednesday!
For More Wordful Wednesday visit
http://sevenclowncircus.com/
Since I have been playing with my new camera and trying to become better I thought that I would take you for a little walk into my past dabbles in photography. I not only LOVE photographing people but I like to do scenery as well. This was during my first visit to my mother-in-law's hometown in Cedarburg, Wisconsin.
_______________________
1. Have you ever been so lost that you were really afraid?

Yes. On Kendall's 1st birthday in June 2007, I went to my BFF's (from college) wedding. I left my daughter with my parents, sis, & brother in law. On the way back to my sister's house, I found myself lost in INNER city Philadelphia. It was a SUPER rough neighborhood. Fortunately, my BIL was able to get me out of there and back to their home. I remember thinking....."I am never going to be able to kiss my baby before she goes to sleep at night!" YIKES!!! I don't ever want to do that again.


2. Have you ever been to an island?

Yes, Puerto Rico on my second honeymoon.

3. Are you more of a thinker or feeler?

I am a feeler for sure!

!
4. Do you tend to see issues or situations in life as black and white or shades of gray? There is no black and white!!! I see everything in all kinds of color!
5. If you were stuck on an island, what book would you hope to have with you (Let's pretend the Bible is already there, so you can't say that.)

I am going to have to say a journal so that I could record what I was feeling & the island advenutes!
6. What are you most afraid of?

My biggest fear is losing one of my children or dying before my children ever really get to know me.


7. Would you rather lose all of your old memories or never be able to make new ones?

Oh my gosh.....that is a tough question! I guess since I tend to pour out my memories and feelings into the blog & my journal that I would rather lose the old memories so that I could continue to progress with my family in making new ones. WOW....this is really intense today!
8. Pretend I'm looking at a scrapbook page about you. There are three spaces for you to drop in individual pictures. What are those pictures of, and why did you select them?

First and foremost, a large picture of me from my baptism. I would be nothing and have nothing if it weren't for my Savior! The second biggest one would be of my family. There is nothing that you cannot achieve with the love of family. Hmmmm.....third would have to be surrounded by friends because they are just like family.
9. If you were re-doing your wedding, what would you do differently? (If you're single, tell me one thing you would do if you were planning a wedding OR huge party.)

Not a single thing!


10. Tell me one thing you know/believe about forgiveness.

I am forgiven of a multitude of sins and for that I am forever grateful.


11. You're waiting in a doctor's office. What is your favorite way to pass that time?

Probably reading if I am not chasing the kids around.
12. If there were a clone of you in a parallel universe what is one way you hope she/he would be the same as you and one way you hope she/he would be better?

I would hope that she would enjoy my family and friends as much as I do. I would hope that she would learn to be a better communicator at an earlier age!


Check out Sara at http://thebowyers.blogspot.com/ for more!