The end of fun is never easy to take!
Right before we had to hike back up a very steep 1.2 mile trail.
Kendall was not happy!
For more visit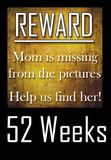 _______________________________
Anywho..It's time for a little Thursday Five action..
To play..Just post 5 things that have made you..
1. Being at home from vacation has made me very
Happy
2. Seeing the kids enjoy all of the VBS crafts that I have worked on hard on has
Delighted
me this week.
3. I am
Grateful
that we are going to get to see my parents and in-laws this summer on family vacations.
4. I am
Totally Stoked
to see Kendall's 4 year portraits that she had taken last night.
or
5. I am SUPER
Thankful
for ALL of the adult & youth volunteers that have showed up this past week to help with pre-school crafts.