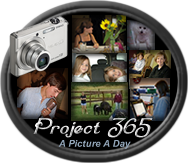 http://workofheartandsoul.wordpress.com/365-project-2/

Day #8 (Sunday) We went to our "last" Sunday service since next week we will start our Saturday nights. We started our household projects today by going shopping at Lowe's to stock up on supplies.
We are planting blueberry and strawberry plants this year as well as tomatoes and jalapenos.
Day #9 (Monday) Ben took time off of work to complete some projects at the house before he leaves on his detachment. We did ALOT of transplanting and also new planting to spruce up the house. There was also weeding, spreading lime and weed & feed on the lawn, mowing the lawn, power washing the house, and making the garden bed ready.
The kids had a good time being outside and "helping" us out.
Day #10 (Tuesday) More work on the house. The kids wanted to be like daddy and wear their hats. We stopped to take this quick pose!
Kendall was a big helper with my pansy planting!
Day #11 (Wednesday) The kids had school today. We forgot about St. Patty's day but fortunately the kids had a small amount of green on their clothes. We spent the day working on the house (inside and out) again. We also got our gutter quote done.
Here is Kendall's project.
Day #12 (Thursday) This has been my favorite day (also my most exhausting) of the week. We are at the tail end of our Beth Moore study for the ladies ministry at church. I am so excited that our ladies ministry has seemed to explode just like the general population at church!
Day #13 (Friday) Isaac had his 18 month well check today which also turned into his double ear infection appointment! My poor little boy. We decided to put all house stuff on hold and enjoy our last few days together. We took the kids to Chuck E Cheese. (It was my first trip there ever!!) We had such a fun time until it started to get crowded. We had small group after that with some of our very close friends.
Day #14 (Saturday) Ben started out the day with some yummy chocolate chip and blueberry pancakes. He is definitely the breakfast cook in our house!
We continued our fun by going to a small local zoo. The kids had a lot of fun especially when they got to feed the pygmy goats.