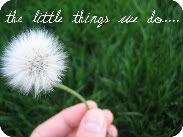 1. The best piece of advice I was ever given was
marriage is something to be worked at....it doesn't just happen naturally. I believe this to the very core! We just had a sermon series on marriage where we discussed that it just takes a pulse to fall in love but it take turning love into a verb to stay in love. It's something that I would tell young people about to get married and older people who have been married for a long time.
2. If I had a million dollars to give to one charity I would give it
American Cancer Society
.
3. If I got to choose my "last meal" it would be
round steak with gravy, mashed potatoes, corn on the cob, broccoli, salad, dinner rolls, baklava and pumpkin pie
.
4. My hair is sort of
really hard to control. Ben calls me the "mad scientist" for a reason. It seems that since having children it is even more difficult to control!
5. If at first you don't succeed
try, try again and ask God for some help along the way!
6. I have always been very
sensitive. I don't like to see other people in pain or hurting emotionally. I think that God gifted me in that and then lead me to Oncology nursing where he allowed me to use my talent.
7. Oh....and by the way....
I got my plane tickets to go to Yuma, Arizona to see Ben and scope it out as a possible duty station!!
________
And...here we go!
1. The right word
is so very hard to find sometimes
.
2.
Let mommy finish her bath
and shut the door quietly, please
on your way out
.
3. Up
in the sky, we can sometimes see my hubby fly over
.
4.
Cuddled up with my kids
is where you'll find me.
5. Ooh! What is that
smell
?
6.
Allergy medicine
is a good idea.
7. And as for the weekend, tonight I'm looking forward to
small group with some really great friends
, tomorrow my plans include
playing with the kids then driving to meet up with the ladies of 467 for dinner
and Sunday, I want to
mow the yard after church
!
________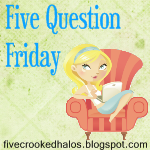 1. Did you pass your driver's test on the first try?
Yes, I did! I passed with flying colors and only missed 1!
2. What is your most embarrassing moment?
I have had a lot of those since I am a little bit ditzy sometimes but I would have to say the worst one was while I was in labor with Kendall. I was in a very (AHEM) compromising position trying to get her to descend when some young man walked into the room looking for someone else. He was stronly encouraged to leave but he kept trying to look and make sure I was not the person he was seeking. Sheesh!
3. What TV show would you like to be on- Oprah, Biggest Loser, or What Not to Wear?
None of these sorry!
4. Would you ever get plastic surgery and what kind?
Pretty much against all of it but I might consider a "lift" of a certain area after we are done having children.....that is really up in the air though!
5. What are your favorite jeans to wear?
Call Me old fashioned but I still love me a good pair of Levi's!