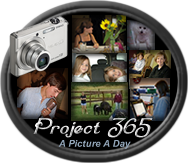 Day #15 (Sunday) We drove to MCAS Cherry Point, NC to drop Benny off for his 8 to 8-9 week long detachment. It was not a super fun thing to do but a necessary evil. The kids and I went to pick up a birthday present for my sweet niece Gabrielle and then to Lowe's for some more plants. I spent the day cleaning and planting to keep my mind off of Ben being gone. (Of course the kids didn't really grasp that daddy wasn't coming home yet!)
These are some of my creations....it felt good to get my hands in the dirt again!
We planted tomatoes in the garden last year but they were ALOT of work. We enjoy having the homegrown vegetables but wanted something more low maintenance. So here we are trying out Topsy Turvy.

Day #16 (Monday) The kids went to their school. I went and got 1/2 of my braces off! I am so excited that I am almost a normal 32 year old again! I also went and did a little shopping. (Retail therapy for a hubby being gone!)
Disclaimer**** There are more pictures of Kendall because she lets me take them of her! Isaac on the other hand will not sit still for a minute!
Here is Kendall with her new cupcake purse from her Auntie Lou and great-aunt Shellie. (Or in her words her daddy's aunt) She loves it! What a fun surprise to have in the mail. Isaac is enjoying his chocolates one at a time too!
My retail therapy was in the form of this new purse (complete with personalization of course!) Don't worry Babe I am done now!
Kendall made this during her art project at school. She was very excited that my friend Danielle helped her!

This is the kids art for their show later on in April. (I will be missing it since I will be out in Yuma, AZ, to see Ben at that time.)
Day #17 (Tuesday) Today was supposed to be our Easter party at MOPS but poor little man has a HORRIBLE diaper rash due to the antibotics from his double ear infection. So we spent part of the day at the sick clinic to get him some relief. We spent about 2 hours putting clean laundry away today too! OUCH!!
My poor little man is such a trooper. He is almost always in a pleasant mood. Here he is with his poor little bum as raw as they come and still saying "Cheese!"
Our beautiful pear tree in the backyard

Playing super heroes

Day #18 (Wednesday) Planting,planting,planting was the name of the game today. I wanted to get all of the plants in their pots and get things arranged. It was also laundry, cleaning, and catch-up on bible study day!
Monday and Wednesdays Kendall and I have about a 45 minute date until we pick Isaac up from school. Here she is enjoying a ride on the 25 cent pony!

I wish that I still got this much joy out of the simple things!

One of the four snapdragons that I planted for the back porch

Hosing off the back porch for the season was so uplifting!

Day #19 (Thursday) Ladies Bible study! We are on our next to last week of "Breaking Free" by Beth Moore. Awesome as usual! Kendall and I went to see "beauty and the beast" performed at a local high school.
Kendall and I before the "Beauty and the Beast" performance.

Kendall loved the play. She got a little bit antsy but was able to hold it together. She says her favorite part was "when Belle was in her BEAUTIFUL yellow dress!"

We got our book for the next ladies bible study which begins on April 15th. I am excited to see where it will take us!

Day #20 (Friday) My quality time with Isaac and he fell asleep on me! We made another shopping trip to Lowe's so we could get some lawn mower parts. (Pray for me this weekend that I can get it up and running! The yard could use some loving!) We had dinner with friends (Thanks again JT and Kelly!) and then small group.
My sweet little man passed out on me during our date. Every Friday morning we spend time together while sissy is at school.
The weeping cherry tree in front of our house in bloom. I love all the spring blooms coming out!

Day #21 (Saturday) What fun we had playing together today. Weekends are typically the hardest when Ben is gone but we got to skype with him today so that was uplifting. I was supposed to be going to a farewell party in Morehead City for the squadron's commanding officers wife but my friend that was supposed to baby-sit had a family emergency. (Please pray for her!) We went to church instead. Ben would have loved the "youth" band that rocked out for our service.
Kendall's craft project from church this evening. She really wanted her daddy to see it!