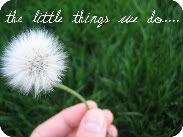 1. Today I am wearing
some capris since it is supposed to be warm again!
2. My favorite childhood food was
probably my mom's chocolate chip cookies followed by my grandma heider's peanut butter fudge!
and my favorite food now is
probably baklava.
3. A day that I am too busy to
have a devotional, hug & smoosh on my kids, and give my hubby a kiss
is a day that I am too busy
.
4. The last movie I saw was
"The Blind side" (I think!)
and the next movie I want to see is
who knows! I want to see Nicholas Sparks "The Last Song."
5. My favorite smell is
the kids after they get out of the tub or Ben also after he gets out of the tub!
6. A weird little quirk I have is
I like to hang dry most of the kids and my clothes. (Even though it irritates my husband because the tag says that you can put it in the dryer!)
7. When I take personality quizzes they always say
???I have never taken one!
__________________________
Friday Fill-ins
And...here we go!
1. Today I will be
at the pediatrician for Isaac's well-check and then home for our new gutters!
2.
You say come with me
and I say why not?
3. What do you think of
red heads?
4. At
my house,
it's free Pastry Day til 1030 Friday!
5. People say that what we're all seeking is
God's love
.
6. The image I cherish most is
the 3 faces that mean the most to me playing together
.
7. And as for the weekend, tonight I'm looking forward to
possibly ChuckECheese with the family then small group
, tomorrow my plans include
enjoying our last day with Benny by going to our little local zoo and clinging to family time plus starting our Saturday Services at church
and Sunday, I want to
stay in bed instead of taking Ben to the squadron so he can fly out
!
____________________________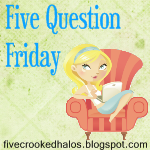 1. Have you ever had a celeb sighting?
Yes. I was in LA on spring break visiting my friend & I saw the dad from the "wonder years."
2. What temperature do you keep your house?
In the winter about 73 degrees and in the summer we usually set it to about 69-70 degrees. (I think!)
3. Do you notice dust at other peoples homes?
Not really unless it is piled inches deep!
4. What's the worst job you ever had?
Each job has bad qualities, I think that we can all agree. With that being said, I think that the worst job I had was using my Psychology degree as a TSS (therapeutic staff support) while I finished my nursing degree. The reason why I say that is not because I was mistreated but because I so think that the student that I was with needed to be pulled from the home & I couldn't get him out. I kind of felt like I failed him even though his behavior improved while I was with him.
5. What is your most sentimental possession?
Oh gosh....if you really know me then you know that I am about the most sentimental person on the planet so I have ALOT of sentimental possessions. I would probably have to say the one of the most monetary value would be my great-grandma's high school class ring. (We went to the same high school and college!) I wear it every day and always remember her sweet little giggle when I have it on. I also have many cards that people have written me, drawings from the kids, different pictures, You Name It & I probably have it!