The kids and I playing on their snack table. It is fun to be inside on a rainy day sometimes :-)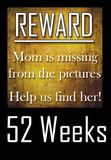 For more fun visit Carin at http://wyomingbarnetts.blogspot.com/

Relaxing in one of my favorite comfy sweatshirts. (I can't believe that Ben got me this 6 years ago!) It is raining and yucky outside so we are focusing on some fun inside today. This is probably the last Thursday that you will see me with a full set of braces too! Woo hoo!!