Check out http://workofheartandsoul.wordpress.com/365-project-2/ and http://thebowyers.blogspot.com/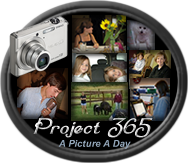 I saw these last week at a blog that I follow semi-regularly and thought what a fabulous idea it was. I love to keep our family and friends up to date in what is happening with our lives but I am afraid that it gets too boring. I think that this is a creative way to keep you updated on our lives without the boring factor. (I Hope!!) Enjoy!
__________________________
Day #1....We spend a good portion of our Sunday at our church, First Baptist of Jacksonville. We normally get there at 0930 and leave about 1245 on any given Sunday. We also had our "Belong" class this Sunday night. (After you join the church they tell you a little bit about how to plug-in and some of what is involved about being a member.) Our church is GROWING very FAST! (I think that we had another record last Sunday that was near 1,700 people)We will be switching to the Saturday night services on March 20th to make room for new people at Sunday service. God is good!
Day #2....the first training day of the week for me. I ran 1.5 miles and biked 2 miles. I also trained on Wednesday with 1.5 mi run and then 1.5 mi bike. I am desperately afraid that I am not even going to be ready for our 3 mile race let alone the 6 mile run.
Day #3....The second and fourth Tuesday of the month is our MOPS group. This is where it is held. This also used to be the church where our current church used to be located. We did our service project today. We made memo boards from some of the residents of a local nursing home.
Day #4.....spring is in the air. We took advantage of the 75 degree weather and had our lunch on the back porch. Eating is serious business for Sir Isaac so I go no pictures of him looking at me!
Another big part of day #4 was shoe shopping....the warm spring weather lead me to try Kendall's sandals on....needless to say she went from a closet full of shoes to nearly none. We went and got some new shoes for our growing girl. The boots are for next winter but I can't pass up a bargain!
Day #5....Our little Bug took up most of the day. She has 2 cavities in her molars and deep groves in her lower molars (which is a big risk for future cavities.) We tried once at our regular dentist to fix them but it didn't work so we went to pediatric dentist. Kendall was to be put under moderate concious sedation to do the fillings and sealants. After demerol & visteral plus laughing gas and one of the staff holding her in the chair, Kendall still managed to roll out of the chair kicking and screaming. I guess if the cavity gets worse then she will have to go to the hospital to be put completely under for her dental work. Not a very fun day for anyone!
Day #6.....The hopathon at Kendall's school to benefit Muscular dystrophy.

Here is Kendall practicing at home to hop! Yes she is sporting her Penn State windbreaker outfit with a Texas A&M tshirt on underneath it!

This is St. Anne's. We come here Monday, Wednesday, and Fridays for the kids pre-school and parents morning out classes.
We also went to the Onslow County Library on Day #6. Normally, Kendall and I go 2 to 3 times per month as our mommy/daughter date but since we have something special planned for the 25th I took both of the kiddos today.
Day #7....we will be spending on our house. There is a growing list of honey-do's that need to be accomplished before Ben leaves on his detachment. I am also hoping to get another run in to work on my endurance!