Friday Photo Flashback (Birthday Style)
I could not have a birthday flashback without including Rebecca (the curly-haired blonde to my right in this picture) She planned and executed 2 surprise parties for me when I lived in Pensacola, Fl. I don't have a better pic (at least from b-day celerations) of the two of us but she always made me feel special!
This is another one of my fun friends from FL. Dana was a huge support while I was down there. Here we are at my surprise party #2.
Some of my favorite 3 west girls out for my birthday. Aurelia, Mary, Dana, Jenny Lyn, and me
Random birthday picture at my parents
2000
Just in case you are wondering why I chose to flashback to birthdays?! Today is my birthday! I was looking for a picture of Ben from my birthday in 2003 (since that was around the time we started dating) but couldn't find it. So this is what you end up with :-) Hope you enjoy!
For more visit Alicia at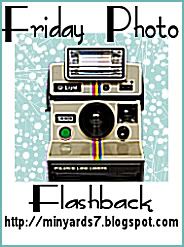 ______________________________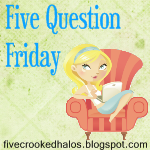 1. Have you ever visited another country?
Not the ones that I really want to go to but yes I have been out of the country.
2. Where is the strangest place you have ever been?
Hmmmm....I don't know about strange. Every place that we have been has been unique and fun-filled. Maybe in Puerto Rico at the Star Bucks (long story!!)
3. What is your favorite season?
AUTUMN (there is nothing more beautiful than seeing all the leaves change color and that is when I said the first "I love you" to Ben!)
4. What one song will always cheer you up?
Barbie Girl (Don't judge!)
5. What Disney character do you resemble most?
Ariel (just because the hair is red now!)
_________________________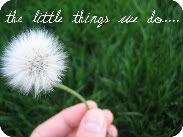 1. Birthdays are:
AWESOME! I love having your own special day and the feeling you get from people remembering it.
2. My favorite birthday memory was
in 2003 when Ben came to my birthday party. He was in full swing flight school and even though he should have been studying he came out. There was a few other funny memories from that night that I am going to plead the fifth on too!
3. A birthday tradition I (or my family) has is
ice-cream cake!!
4. If I had to choose one birthday meal to eat for the rest of my birthdays hence forward, I would choose
a nice big ol' steak, loaded sweet potato, broccoli, and some ice-cream cake.
5. My birthday is on
August 13th.
6. If I could take a birthday trip I would go to
Germany and/or Greece.
7. The best gift I've ever received for my birthday was a
scrapbooking program. I really don't know but since I am sitting at the computer and looking at it.......
This week's questions are:
1.What is ONE thing you'd like civilians to understand about being a military family?
We don't take one single celebration for granted. You learn the hard way when your spouse has missed not one, not two, not even three but FOUR of the same holiday in a row.
2.What is your favorite mistake?
Most definitely involves Ben. I wasn't supposed to be out the night that he had to "save me" and if I hadn't been we might not have ever started dating. I'd like to believe it was God leading us to each other!
3.What indulgence could you give up for a year?
Hmmm....going out to eat?!
4.If you could be a winged animal, what would you be?
Easy one! Eagle
5.What is one question you'd like to see asked in a future MFF?
?????
____________________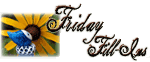 And...here we go!
1. Music
feels my heart with joy
.
2.
A shower
is what I like first thing in the morning.
3. The first thing I said this morning was:
thank-you baby (when Kendall greeted me with a big un-prompted Happy Birthday Mama!)
4.
Red Robin
; it's what's for dinner tonight.
5. It's all been
fun!
6.
Stretching
is what I feel like doing right now.
7. And as for the weekend, tonight I'm looking forward to
my birthday dinner with my family
, tomorrow my plans include
relaxing with the family, church, & life-group
and Sunday, I want to
have a good baby shower at church then a great pool party with friends
!