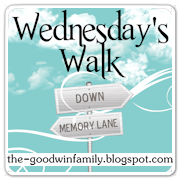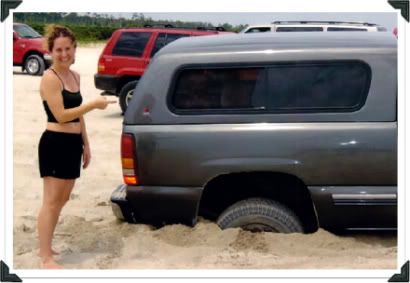 Circa 2005
2 girls, 3 dogs, 1 beach, guys on deployment, and sand vs truck!
Draw your own conclusions on who won!
_______________________________________
Wordless Wednesday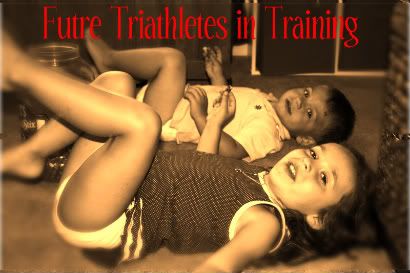 ____________________________
WORDFUL WEDNESDAY AT


I have been taking the kids to the "mommy & me" time at the pool but that is on Wednesday and Friday mornings so Ben can't go. We went to the pool this past Saturday so that Ben could see what a great job Kendall is doing going under water and swimming! Of course they needed to show off some of their jumping abilities too!
_____________________________
1. When was the last time you laughed until you cried?
You know I cannot remember. I guess I better work on that!
2. If you found $10 today, what would you do with it?
Probably save it! I want to get the blog printed out into books for the kiddos (futuristic terms) It's a little bit more expensive than I thought it was going to be!
3. Do you volunteer anywhere?
I volunteer at church (preschool ministry team & ladies ministry) and at Ben's squadron.
4. What is your favorite summertime veggie or fruit, and how do you eat it?
Tomatoes. Sliced on toasted bread with miracle whip and a bit of salt. YUMMY!!
5. Is your social sphere (circle of friends) small, medium or large?
Large and very thankful all of the beautiful people that God has brought into my life!
6. When was the last time you attended a family or school reunion? How did that go?
School reunion 5 years ago (Fun!!) Family reunion last year for Ben's family (AGAIN lots of fun!)
7. When you're feeling blue, what is the best way someone can cheer you up?
Be with me no matter what kind of mood I am in.
8. Have you taken a vacation this summer?
Yes. Highlands, NC, Pennsylvania, and now getting ready for Gatlinburg, TN.
9. What is the most unnecessary item you carry with you all the time?
Probably my camera :-)
10. What is the best summer flick you have seen so far?
What there are movies out? hee,hee. We did see one movie this summer and I can't remember the name of it!
11. Describe a perfect summer day.
Lounging by the pool, a shower, then picnic with friends
12. Please a share a favorite photo from the summer so far!
Gotta check out all of them along the way :-)