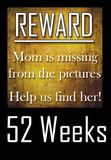 Shoot Me! It's time to stop hiding behind that camera of yours. Your family is missing you in the picture. So it's time to post a picture of YOU (yes, you) every Thursday with your child, your spouse, your friend, your dog, or even by yourself. Just get in the picture, you'll be glad you did! And just jump in now with 1 of 52, you can do it!
With my high-school & college friend, Becki, who is due with her first baby. I don't always get to see everyone that I want to when we are in PA but I was thrilled to be there the weekend that her baby shower was going on.
We were the "4 Muskateers" in high school and still hung out a lot during college. Sadly, life takes turns at seperating us with various moves, activities, children, etc. This was the first time that we were all back together again in 5 years. (We got to see each other at our 10 year HS reunion that time!) Here's hoping it won't be another 5 before we see each other again!