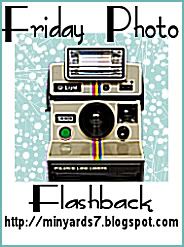 We just got back home from vacation in Pennsylvania. I must admit that PA still kind of feels like home but so does NC and every other place that we have been. It really hit home (no pun intended) that we were home when I saw some homecoming signs that a friend had up. So in honor of homecomings....here is the sign that I made for 10 week old Kendall to have for her daddy in 2006. It reads Daddy when you left I was this big (picture of her in utero) and then Come see me now! Happy Friday Photo Flashback!
____________________________________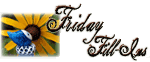 And...here we go!

1. This is what life does. It lets you fall until you realize that God is in charge then it picks you right back up!
2. Doesn't it make you want to drink in the beauty & appreciate the moment?
3. Upon reflection I probably shouldn't have said that!
4. I saw a lot of family this past week that I haven't got to see for quite a long time.
5. Later, you wake up in a good mood!
6. Let's sail away to the far and boundless sea.
7. And as for the weekend, tonight I'm looking forward to game night with great friends, tomorrow my plans include unpacking, straightening up the house, church, & life group and Sunday, I want to play it by ear!
____________________________________

This week's questions are:

1.What food reminds you of your spouse? Steak (we have had quite a few fun memories that revolved around eating it!), Greek food, Indian fry bread, eggs, brats, lobster & crab, fish
2.Who would you rather sit next to in a cross-country plane ride: an irritating non-stop talker, or a quiet stare-er? Non-stop talker. I can't stand when people stare at me!
3.What are your best tips on how to save money? Set it up so that it comes out of your paycheck before you get your paycheck & you never miss it! Ours is automatic so there is no dawdling or changing the amounts etc.
4.What is your favorite summer memory? Just being free to do what I wanted!
5.Do you believe in ghosts? NO
___________________________________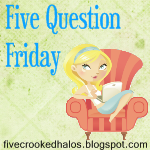 1. Do you collect anything?Besides dust? Cough ok just kidding. I love precious moments, pictures of family, and a wide variety of other things. So yes in answer to that question.
2. Name 3 celebrities that you find good looking. Matthew McConaughey, Ben Affleck, hmmm...I don't know!
3. Do you have any scars? If so, what's the story behind it (them?)?Mostly on my legs from childhood craziness!
4. What is a food that you like to eat, but others might think it's gross or weird? Calamari
5. Have you ever seen a tornado in real life? No thank goodness!
_______________________________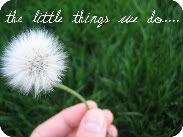 1. A very nostalgic place that reminds me of being a kid is the creek down by my parents house. I have very fond memories of jumping off the bank into the water.
2. If someone really wants to show me how much they love me they should probably hang out with me. Being with friends is one of my favorite things to do.
3. Lately I've been wondering a lot about if we are going to have to move & how the kids, myself, and Ben will adjust to it.
4. When it comes to saving money I am getting much better with age.
5. I'd prefer hugs over kisses any day!
6. I wish I knew how to photograph better.
7. I'm just waiting for Ben's orders to come through.
_____________________________________