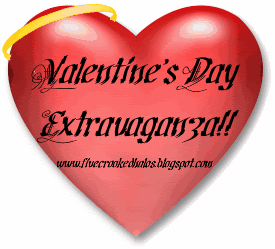 Today, is "Tell me how you met your love..and/or your bestfriend" day!
Let's see how I first met Ben......I was at the tail-end of a bad relationship & struggling to figure out what I should do. (I knew that I needed to end it but you know how stubborn women can be!) My friend Heather invited me to go out with (and I quote) "a bunch of friends." I thought sure that sounds like fun! We were in Pensacola, Florida at the time and they frequently had free concerts in the park. I arrived with Heather to meet Ben and ONE of his friends. I was pretty mad at Heather because it seemed like a double date not the "group" hanging out as I had been lead to believe.
Anyway, Ben actually was there because he liked Heather! I saw Ben off and on over the next few weeks when we were out at different places. One night out on the beach, there was an interesting character that would not leave me alone. I saw Ben, took off running, jumped up to give him a big hug, & whispered,
"Will you pretend to be my boyfriend so this guy will leave me alone?"
Ben said, "Why don't you just tell him you have a boyfriend?"
I said, "Because I don't have a boyfriend anymore!"
We talked for awhile until that guy left. Ben eventually went back to hang out with his friends but came back before the night was over to invite me out boating the next day. I was not looking for a relationship at the time especially with a (GASP!?!?) Marine but it sounded like fun. That was the start of something wonderful! (even though it took me awhile to acknowledge it!)

My handsome fella at his first triathlon....no wonder he had me hooked from the start huh?!
Our first Marine Corp Ball in November 2003.

We had A LOT of fun and special dates but this one always stands out in my head. It was a September 11th tribute at the Pensacola Civic center.
After we eloped on December 31, 2003, we returned to the park where we first met for a photo op!
Check out Mama M. at http://www.fivecrookedhalos.blogspot.com/ for the rest of the information on Valentine's Day extravangza week!