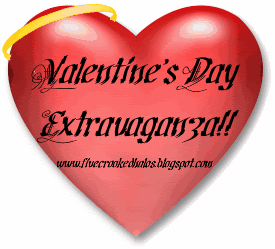 Today over at http://www.fivecrookedhalos.blogspot.com/ is Day #2 of Valentines Day Exravanganza. The topic is Best date. Enjoy!
Oh my goodness.....so many to choose from! Most of these pictures/dates are pre-kiddos but that's just when we could move around easier. We still have some pretty fun dates now too!
I mentioned yesterday that one of my most memorable dates was a September 11th tribute. It was very moving and interesting. We got to see the Marine Corps silent drill and the Marine Corp band. It was so very neat!
Another date that stands out to me was when we went to see "Riverdance." We had such a great time and it was the first time any guy had actually taken the time to pick something more "feminine" for a date, plan it, and surprise me with it!
As a surprise, Ben's uncle took us for a one year anniversary ride in the helicopter over Milwaukee. It was so much fun to share that with Ben. (He is a Huey pilot for the Marine Corps.)
We did a "photo shoot" for my friend Dana's photography class. We were tired of smiling and GASP kissing at the end but we got some really awesome shots that became our engagment pictures! Ben was such a good sport about the whole thing and even got into doing some of the poses.
Ahhh.....when we lived out in San Diego, Ben humored me and took me to lots of "touristy" places. Sea World, Disneyland, the Zoo, the Wild Animal park, etc.
Here we are at Disneyland
The Wild animal park
Here we are in Puerto Rico.....we had MANY fun dates while we were here but I think that this was before the crazy "Starbucks" experience. (For those of you that know our funny story about that!)
Last year, we left the kids with my parents and went to Charleston, South Carolina. It was so nice to be just "us" again. We had some fun dates here but my favorite was going kayaking. I knew that Ben had been wanting to do it and we had such a great view of Charleston!