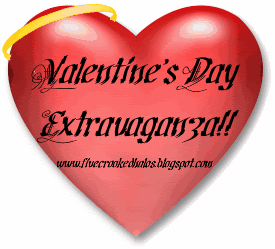 Ok, ok so I am a day behind a dollar short! I thought that I would look at the future topics for Valentine's Day Extravangza and realized that today is actually "Engagement stories" over at http://fivecrookedhalos.blogspot.com/
To catch us up you are going to have to deal with another post from me today! Sorry y'all!
We have enjoyed a unique relationship from the start so our proposal story is no different! When I decided to stay in Florida with Ben instead of moving to North Carolina, he kept talking about eloping & where we could get married. I was excited but he had not proposed so it was always in the back of my mind that maybe he was pulling my chain. (Many years of bad relationships tend to do that to you!)
We had his "winging" which is a very impotant moment in the life of any pilot. We were soon to be moving to California where we were not going to live together until we were married so I was understanably nervous.
Ben and I drove to my parents house for Christmas. Ben went with my Dad (by himself BTW) to the grocery store. This was when he asked him to marry me. We went the next day to my college for a tour.
Now it was DECEMBER in western Pennsylvania.....we were walking around the oak grove which is where I spent a lot of time during school. I was hoping for a quick tour so I could be back in the warm truck but Ben had other ideas. He asked such questions like......
"Did you have class in that building?"
"What did you do when you hung out in the oak grove?"
"Were there a lot of squirrels here?"
There were some other ones that sadly I can't remember right now but needless to say we were good and cold! Ben finally said,
"Let's go to the truck."
"Ok great!" was my response. "We can head up this way it is shorter."
Ben wanted to go back up to the center of the oak grove. I was thinking "man I am going to freeze my tush off." We got up to the center and I was slightly ahead of Ben.
He said, "Hey I have another question for you."
I turned around ready to tell him to ask it in the truck to discover him down on one knee......I think I just said, "YES!" before he even got the question out.
I know that he was disappointed that he couldn't ask me on his college campus (Texas A&M) under the century tree but this worked just as well!
I don't have a picture from that day but here is from a few days later right before I took him to the airport to send him to see his family & our first niece who was only about 6 weeks old.
How much I love him!

I think that we had the shortest engagement on record.....Ben proposed on Christmas eve 2003 and we were married/eloped on New Year's eve 2003!