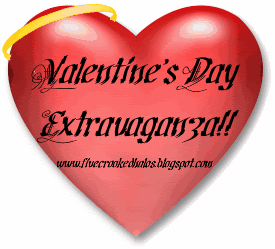 I ummm....have a problem with decisions sometimes so I ended up with 10 since I couldn't choose between those questions!
1. do you exchange valentines gifts/cards?

No not usually. I normally get or make Ben a card from me and now one from the kiddos. We have been making a stepping stone every year on Valentine's day since 2006 though.


2.When did you know that he was the one?

Hmmm....well I was about a week out from my final interview for the Bone Marrow transplant unit at Duke. I was at work in Baptist Hospital on a Saturday. I fortunately had an easy patient load that day because I kept wrestling with an oppressive weight when I thought about leaving him in Florida. When I told him that night that I thought that I should stay there in Florida with him, he was so excited. Soon after that is when we started talking about eloping.


3. Most romantic dinner?

I don't know about romantic but memorable! We went out for our anniversary December of 2006 in Springfield, Missouri, to this neat Greek restaurant. (I LOVE greek food!) It was our first date since Kendall had been born so it made it very romantic! I loved watching the belly dancers and the whole ambiance of the restaurant.


4.What are you attracted to the most in your special someone?

Well physically his smile and eyes. Besides that, his integrity, willingness to try new things, sensitivity (most of the time!), trustworthy, kind, loving, great father, wonderful son & brother, unique, his deep voice, conviction


5. Did you help pick out your engagement ring?

Kind of....I went along for guidance picked out a few that I liked then he picked one from there, changed the center stone to suit my taste, and VOILA! I didn't actually see it until he was down on one knee with it.


6. Do you have a pet name for your love?

SNICKER! Ok here goes in no particular order....Benny, BeeGeeWeeGee, BB, B, babe, G-funk, Goulet


7. Does your love have a pet name for you?

Jamers, J, Buns, Julierra, Jessica


8. What is one thing your love does for you that you couldn't live without?

Being my lifelong partner no matter what we get in to.


9. Likewise, what is one thing your love does that you could live without? :)

Procrastination!!!!!!!!


10. Describe the perfect romantic get-away with your love
. I would really like to take a trip just the two of us to somewhere tropical again or our Europe trip! Probably anything that would involve us being alone together would do right now!