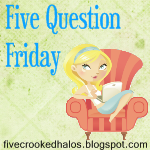 1. What are you most afraid of?
Well I am really not fond of spiders....But as far as true fear I really worry that either something will happen to my children or that something will happen to me. I know that I should not fear because it is all in God's hands but I do worry about that.....
2. Do you use a flat iron or curling iron?
Neither.....naturally curly!
3. Hands-free or phone to the ear?
Hands free please! I am too busy to be putting it to my ear!
4. Do you have a matching bedroom set?
Yes in the fact that we have all black furniture except for my cedar chest (which is patiently waiting its overhaul) and my jewelry armorie. (When we eventually settle into our retirement/dream home after the military, I am hoping to have a closet big enough that those pieces of furniture can be in there anyway!)
5. Do you believe in the paranormal?
No. I believe that you are either going to heaven to be with our Savior or you are going in the opposite direction. I pray for your sakes that you will be there in heaven!
For more 5 question Friday check out Mama M. at www.fivecrookedhalos.blogspot.com/