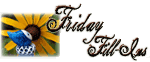 And...here we go!
1.
Spaghetti
and
home-made sauce
make a quick and easy dinner.
2.
The lucky one by Nicholas Sparks (& Song of Solomon, Sheparding your child's heart, His needs, her needs for parents, and a few others too!)
is the book I'm reading right now.
3. July brings back memories of
hanging out at the beach with Ben when we were first getting to know one another.
4.
The punchline of that joke
was obvious.
5. They say if you tell your dreams
to the right man they will come true.
6.
I took a long, hot bubble bath
to think it over.
7. And as for the weekend, tonight I'm looking forward to
small group even though Ben is on 24 hour duty
, tomorrow my plans include
working on the house inside & out even though it means missing a baby shower & a bbq
and Sunday, I want to
go to church then relax with Ben and the kids
!