On our second trip back up the mountain to your cabin in TN, we found a turtle about to get squished on the windy mountain road. We scooped him up and brought him back to our cabin for a little bit. Here are the kids enjoying him. We sure do miss the turtles from our yard!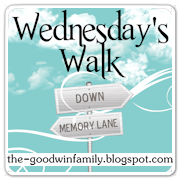 This is a recent memory from Gatlinburg. We went out to eat at a really neat sandwich shop for lunch. The kids were in love with all of the neat trinkets around the resturant. Here is Ben with them by the "big, cool" bear.
1. What insect are you most afraid of? Feel free to post a picture.
SPIDERS! Hands down
2. What is the greenest/most organic thing about you or that you do?
We recycle. I was most of our laundry in cold water. Hmmmm.....we are not very green!
3. Tell me about a recurring dream that haunts you.
I don't think I have any recurring dreams!
4. Have you ever missed a flight? What were the circumstances?
Yes. I was on my way to a formal in New York and I missed my connecting flight in Philadelphia. It was not fun at all!
5. What do you consider your best feature?
Besides my fun personality?! :-) I would say physical feature is my smile.
6. What was the last concert you went to?
Kenny Chesney back in 2005
7. Describe the most embarrassing church moment you ever experienced.
I don't know that I have had an embarrassing moment in church but I can tell you that I have been embarrassed for other people. I am pretty sure now that something embarrassing will happen to me now :-)
8. Are you a whistler, hummer or singer?
9. George Washington Carver said, "I love to think of nature as an unlimited broadcasting station, through which God speaks to us every hour, if we will only tune in." What is God saying to you through nature today, or this very minute?
Check out my Wordless Wednesday post below!
10. On September, 1, 1752, the Liberty Bell arrived in Philadelphia. What memorable event will take place in your life on September 1, 2010?
My daughter, Kendall, will have her first soccer practice ever today!
11. Taco Bell or the Liberty Bell? (You must choose.)
12. Do you believe men and women can have purely platonic friendships?
Yes, I do