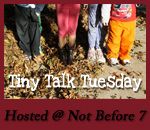 My sweet, little Kendall girl.....
She ALWAYS says what is on her mind.
Just this morning it was this......
(Me changing Isaac's diaper)
"Mom maybe Isaac's peepee is popping out to say hi!"
And what can you say to that?!
Energetic Isaac
Had his 2 year appointment today.
He is 36.5 inches tall (92%) and weighed 35 lbs (95%)
Needless to say he is a GOOD eater. He is also able to tell you sometimes what he wants.
I am preparing a good meal for the family last week. (Pork chops, beans, garlic noodles, biscuits) Little man comes out and tells me "no momma. izza,izza." (Pointing at the fridge)
Me: "Do you want leftover pizza buddy?"
Isaac: "Uh-huh."
Isaac enjoyed some frosting off of his 2nd birthday cake about two weekend ago.