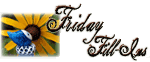 And...here we go!
1. So are we going
to Texas over Thanksgiving? We sure are!
2.
The Marine Corp ball next weekend
is what's up ahead.
3. I love to
be with great friends and family.
4.
This dining room table ruckus must be a mistake
of some sort.
5. I walk a
mile or two without problems!
6.
A child
is the true elixir of life!
7. And as for the weekend, tonight I'm looking forward to
relazing with Benny & the kids
, tomorrow my plans include
Ben's final triathlon of the season at Emerald Isle, the Fall festival at our church, and possibly more pumpkin picking
and Sunday, I want to
get the mountains of laundry put away after church
!