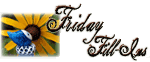 1. No, we will NOT
be going to the Christmas party this weekend :-( Due to the fact that Isaac is slightly under the weather.
2.
We will not be doing anything for awhile
at the old kitchen table
since we got our new dining set!
3. I watched the steam rising from the hot cup of coffee (or tea) and thought:
yum hot apple cider is really what I need this morning
.
4.
Eventually it is all
going to be okay.
5. I'll take
a day off if you want me too ;-)
6.
It is really none of your business
at least from my point of view.
7. And as for the weekend, tonight I'm looking forward to
relaxing with the family and possibly going to get the rest of the hardware for the kitchen
, tomorrow my plans include
catching up on household chores and finally making our ginger bread train
and Sunday, I want to
let you know later what we decide to do
! (Can you tell I am all about relaxing this weekend?!