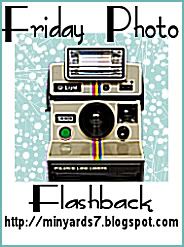 Please check out Alicia at
http://minyards7.blogspot.com/
for more flashbacks!
Kendall's first Christmas (2006)
It was pretty hot in my parents basement with the woodburner so this is what we ended up with!
Sharing their first Christmas together.....I am so glad that they love to play with each other and love one another so much!
Isaac's first Christmas (2008) He was less than thrilled about opening presents but what a change a year has made!