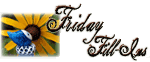 And...here we go!
1.
Carrying a few bags of groceries out of Walmart for an elderly lady yesterday
was my last random act of kindness.
2. Another place
with my husband is where I want to be.
3.
Be gentle
in matters of the heart.
4. Coffee, tea or
water
.
5.
There are many
separate paths.
6. Our
Family
reminds me that there is
God
.
7. And as for the weekend, tonight I'm looking forward to
small group (even though Benny isn't here)
, tomorrow my plans include
relaxing with the kids & going to Chick Fil A to burn energy off of Kendall
and Sunday, I want to
work on sanding & painting the bookshelf for the kids play room
!