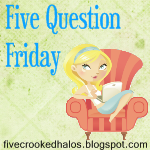 1. What do you listen to while driving?
I normally have contemporary christian, country, classical, or sometimes the oldies (from my parents generation......) Oh yeah I frequently listen to the kids fighting :-)
2. What is your least favorite thing about Fall?
It used to be raking leaves or picking them out of the rocks in front of my parents house. Now I guess I would have to say the approach of Christmas and not being ready!
3. What does your dream house look like, inside and out?
Gosh....Ben and I find things daily that we like. It will have to be 2 story, have a basement, and a wraparound porch. Besides that, we are still working on the details!
4. Would you ever own a minivan?
If it was given to us for free......
5. Do you wash new clothes before wearing them?
It solely depends on what item it is & how much of a hurry I am to wear it!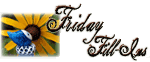 So...here we go!
1. My favorite month is
December
because
I love Christmas and Ben proposed that month too
.
2.
On a hot summer day, I love
a fresh breeze.
3. I love to sniff
the kids after their bath
.
4.
Turkey bacon and french toast
is what I like to have as a treat for breakfast.
5. The hobby I enjoy most is
photography
6.
I am waiting to hear if I got into the craft fair,
oh my!
7. And as for the weekend, tonight I'm looking forward to
staying with the family
, tomorrow my plans include
Kendall's soccer game, church, & life group
and Sunday, I want to
serve in the nursery & get some more sewing done
!