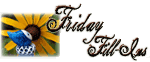 And...here we go!
1. Plans and schedules
seem to fly out the window when you are a Marine Corps wife!
2. I'm happy when things
are controlled by God and not me. (He has a much better grasp on what I need!)
3. The last thing I drank was
pink lemonade.
4. One of the most valuable things in my life is
my family.
5. I like
extra cheese and basil
on my pizza.
6. Dear November,
I love the fall colors, the weather, and I am so thankful that you bring Thanksgiving so we can see family!
7. And as for the weekend, tonight I'm looking forward to
watching Brodi and Colbi so JT & Kelly can go to their MC ball
, tomorrow my plans include
major league house chores
and Sunday, I want to
have a wonderful family portrait shoot after church
!